Do you want to get your hard surface floors looking clean and spotless in no time?

Then look no further!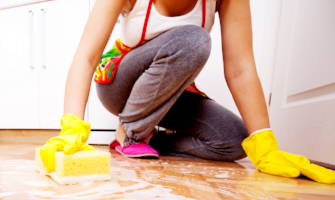 There's nothing more frustrating than cleaning the floors, only to feel your feet sticking to them after what you thought was a job well done. Well, that sticky residue can be caused by cleaning solvents which act like a magnet for dirt.
---
The good news is that, if you clean with the EasySlide microfiber mop, you'll eliminate the "sticky floor" problem. Microfiber is tough on dirt and grime with only a minimal amount of water (or none at all) and without using a floor cleaner.
---
A Clean Floor Starts with the Right Mop
---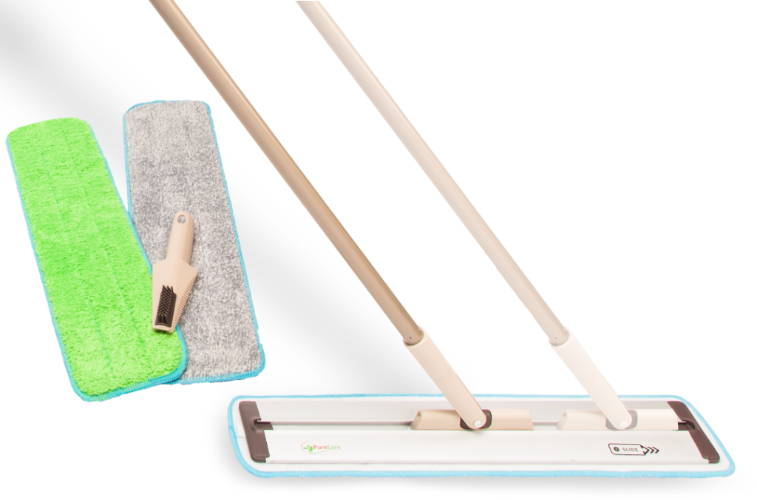 EasySlide microfiber mop comes with everything you need to keep your hard surface floor skarkling clean. The set includes a lightweight yet sturdy telescopic handle with ergonomic grip , a wide lowprofile 19.5" mop frame, two wahsable ultra-absorbent microfiber pads, and a multifunctional scraper.
---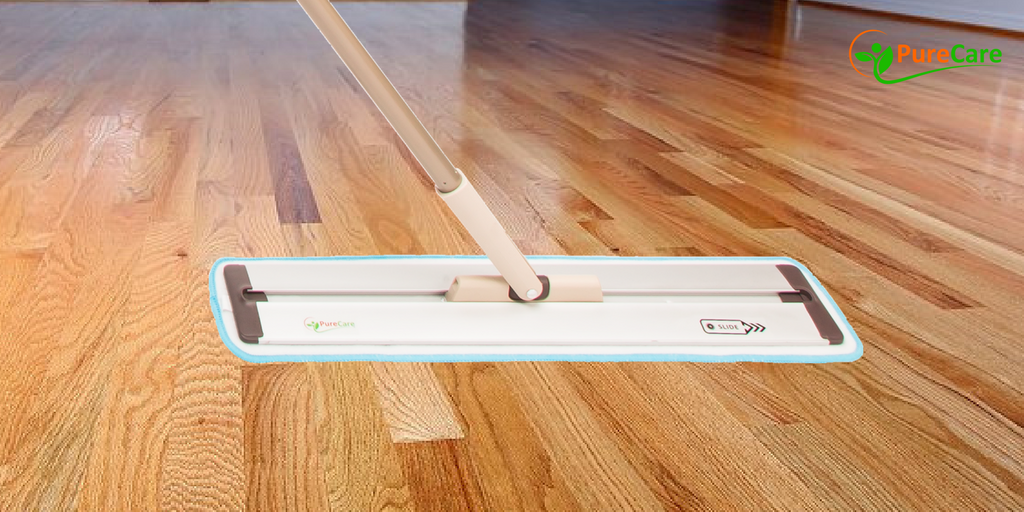 Gone are the days of slopping water on the floor, wiping it up with an old school cotton wet mop. Thanks to the creation of EasySlide microfiber, with its thousands of magnet like fibers, mopping has never been easier or more efficient. One of the benefits of using the EasySlide microfiber mop is that you'll only need to use water to do a great job cleaning the floor. If you do prefer to use a cleaning solution, make it an all-natural version.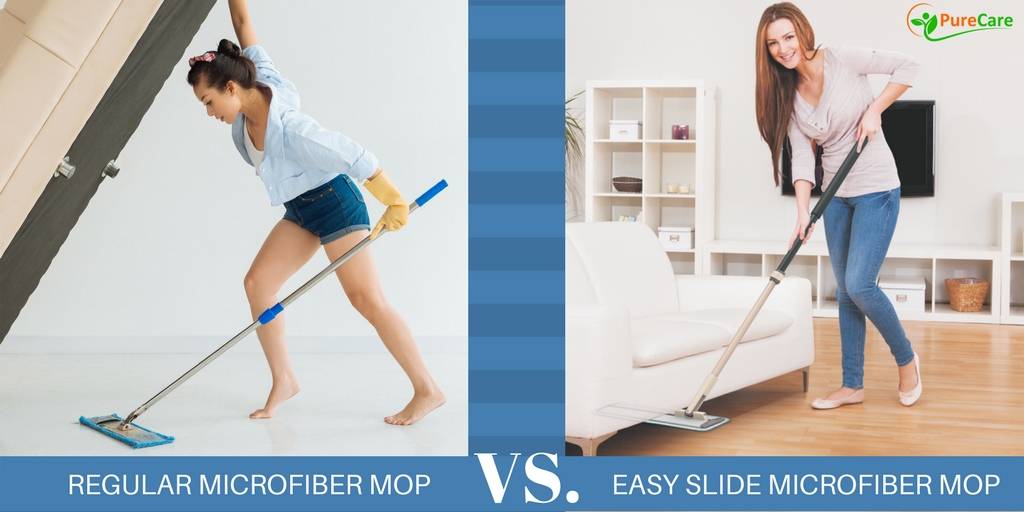 Love a Clean Floor but Hate Mopping? Our EasySlide microfiber mop is easy to use, thanks to its unique EasySlide mechanism that allows it to "slide" effortlessly into hard-to-reach places. This innovative feature increases the cleaning surface of the mop and allows you to get under the furniture without bending over or lifting the furniture. No more back pain or strained back!
Our EasySlide microfiber mop makes cleaning the floor easy, eliminating the need to lugging a bucket of water around with you as you clean. Simply wet one of the microfiber pads in the sink and you're ready to go. Our premium microfiber pads are made with more fiber compared to regular cotton or synthetic cleaning pads which means that you'll enjoy superior cleaning results in a fraction of the time. The highly absorbent microfiber pads consist of millions of tiny fibers that attach to even the smallest particles of dust and dirt, leaving the surface sparkling clean.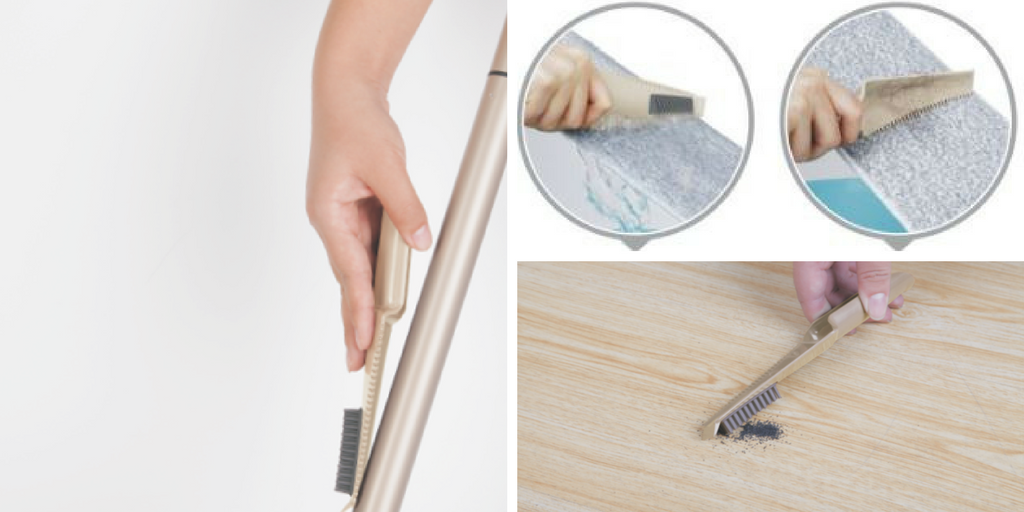 Our EasySlide mop comes with a multifunctional Scraper. Use the edges of multi-functional scraper to clean the surface of the microfiber mop pads after mopping or for hands free wringing of the excess water. Use the tip of the scrapper to remove gum and other tough stains from the floor surface.
What our customers say about EasySlide microfiber mop

by Cindy Morales  Verified Buyer
I love this mop! I like that it comes with 2 different microfiber cloths- one is perfect for my wood floors and the other is a little more rough so it cleans my ceramic floors better. It is narrow so it fits the hard to reach areas behind my sink and toilet in the bathroom.

By Penn32 Verified Buyer
I love, love, love this microfiber mop - for so many reasons! First it's easy to use and the microfiber does a great job cleaning my vinyl kitchen floor and dusting my hardwoods. I also love how easy it slides under my furniture. That said, what I like best is that instead of having to find something to do with my old sponge mop after cleaning (letting it dry out, etc.), I just remove the microfiber pad, rinse it clean, wring it out and let it dry. One of my least favorite things to do is housecleaning so I'm a big fan of anything that makes that part of my life easier. This microfiber mop definitely does that.

Great quality, versatile mop. I love it and will now rid my closet of the other mops that just move the dust around
By Rick Kon Verified Buyer
It's even better than I expected it to be. I'm very pleased with the quality and utility. The dust in my apartment is so bad and the dust mop I have isn't worth the effort as I have to shake the dust from it and it's an impossible job. With Pure Care it's so much more effective and easier to thoroughly clean under my bed, dressers, couches and the scraper gets all the dampened rolled-up dust off, later simply rinsing, squeezing out the excess water and back to job at hand.


By Nettie Verified Buyer
This is great and fits under the couches for easy clean up.


Jennifer Falbo Verified Buyer
I really like this Miceofiber Mop! It slides across my floor so easily and picks up all the dust, pet hair and crumbs. I love how I can use it dry or wet and I love how easy it is to use. I will be recommending it to all my family and friends.

Laura N Verified Buyer
I'm usually a skeptic, but this microfiber mop works great. It glides so easily across the floors. My favorite part might be how easily it stores. The handle clicks onto the base of the wipe and can store without taking up much space at all..

Samantha S Verified Buyer
I absolutely love this mop! Personally I think it's better than my $80 mop that leaves residue! I really like how smooth it glides on my hardwoods and how easy it is to clean up after cleaning. 5 Stars!
---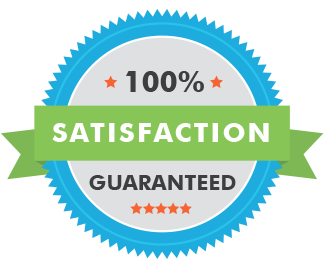 30 Day Hassle Free Returns!
If for any reason you are not completely satisfied with our products, you may return them within 60 days of purchase for an exchange or refund of the product price and applicable tax.
---
---
$29.90
Regular Price $45.99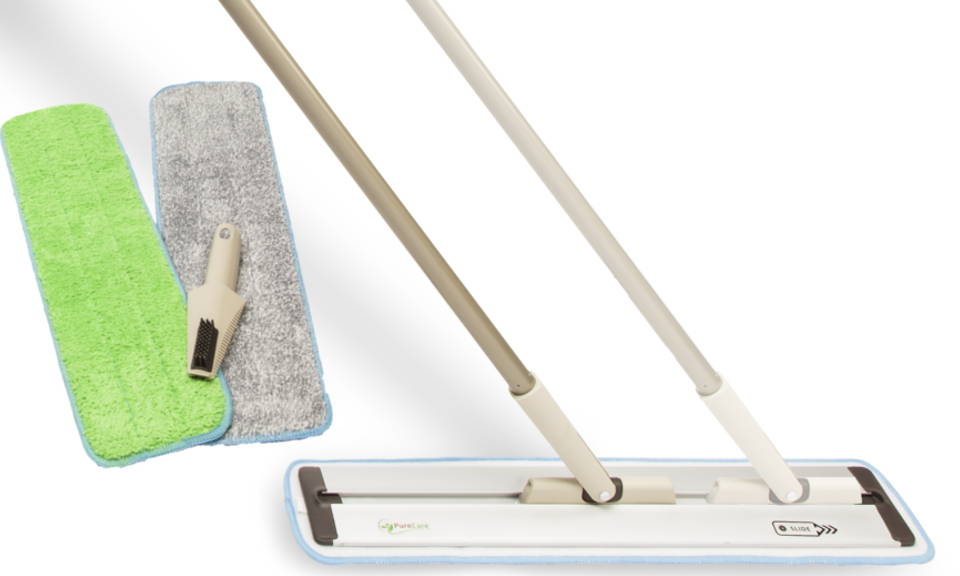 + Free Pure Care telescopic duster
(that's an additional $16.99 savings!)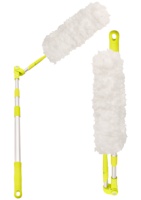 ---